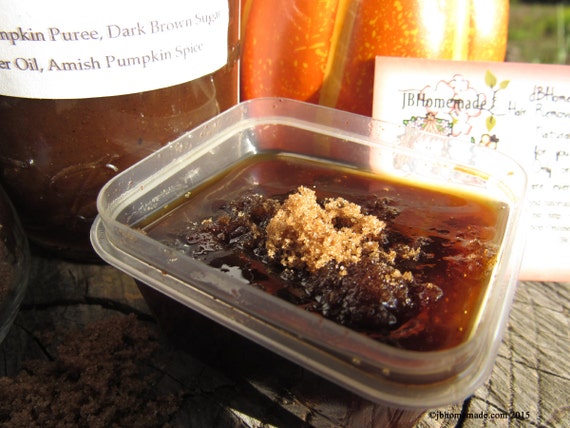 $4.59 USD 
Exfoliation is the action of gently removing dead or old skin cells from the outermost surface of your skin. The healthiest way to do this is with natural skin products with small granules which rub away the old skin.
All natural Sugar scrubs are perfect for regular exfoliation in your skincare regimen as well. Whether you are sugaring at home for the first time, maintaining aftercare, or regularly exfoliation in your skincare regimen, your skin will feel amazingly soft and healthy.
The combination of fall spices, warm scents of pumpkin, vanilla, and brown sugar creates an amazing aroma that reminds you of pumpkin pie and sugar cookies which linger on your skin long after you have used this Pumpkin Vanilla Sugar Scrub Body Polish.
The enzymes and alpha hydroxy acids (AHAs, which increase cell turnover to brighten and smooth the skin), in pumpkin pulp, combine with safflower oil to dissolve dull, dead cells, revealing your healthy radiant skin underneath. Also, the antioxidant Vitamin A and Vitamin C in pumpkin pulp help soften and soothe the skin and boost collagen production to prevent the signs of aging.
♥ Best selling fragrance!
♥ Sugar grains gently exfoliate
♥ Moisturizing formula
♥ Leaves skin soft and smooth
♥ Pleasant, fresh, pumpkin pie scent
♥ Unlike salt scrubs that dry out skin, sugar adds moisture
♥ Smells Amazing with the light vanilla and pumpkin aroma
♥ Gently removes old dry skin
♥ Improves circulation
♥ Soft, glowing, moist, healthy bright skin

Tips and Tricks for JBHomemade's All-Natural Sugar Scrubs
♦ Try Using before a spray tan for optimal tanning results
♦ Use 48 hours after sugaring to decrease the chance for ingrown hairs
♦ Helps control Keratosis Pilaris ("chicken skin")
♦ Use on your feet to minimize calluses
♦ Removes dead skin cells to allow for optimal absorption of moisturizers
♦ Helps remove glue, paint, and unpleasant cooking odors from your hands
Click here to keep reading
Ingredients:
Organic Pumpkin Pure (Cucurbita pepo)
Organic Brown Sugar (Saccharum officinarum with molasses)
Organic Cane Sugar (Saccharum officinarum L)
Safflower Oil (Carthamus tinctorius)
Pure Vanilla (Vanilla planifolia)
Pure Vanilla Extract is known to have properties that are antioxidant, anti-aging, and is soothing.
Brown Sugar is a finer grain and is known to contain vitamin B, which has been shown to improve the ability of the epidermis (the uppermost layer of the skin) to retain moisture.
Safflower Oil has been demonstrated to prevent dryness/roughness, and aid in Removing dirt/oil.
Read in browser »  • 2016-12-31  •
Pin this post!