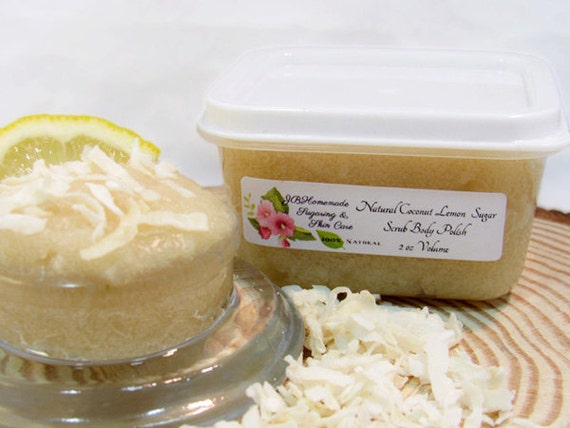 $4.59 USD
The tropically inspired fusion of pure organic coconut oil and bright lemons will surely welcome you to your very own paradise with this all natural sugar scrub! Utilizing the incredible healing and moisturizing powers of organic coconut oil, this homemade sugar scrub will not only buff away dead and dry skin, but it will also nourish and moisturize it. With the lovely scent of candied lemon peel and coconut, this sugar scrub is uniquely incredible as part of your morning skincare routine to help perk you right up!
Coconut oil is fabulous for hardened and cracked feet, which may occur due to excessive cold or strenuous work while standing on your feet. The cracks in your feet will not vanish when used alone, but your feet will become softer within days if you apply coconut oil to the affected area. As an exfoliant, including coconut oil as an agent with other exfoliating or grainy materials like sugars can vastly improve the effects. You will successfully scrape off excess dead skin and clean out whatever substances have blocked the pores without leaving the skin feeling irritated. The natural soothing nature of the oil combines with the grainy, exfoliating material perfectly, and leaves your skin with an even color, closed pores, and a soft texture.
This scrub turns every shower or bath into a delightful spa experience, and it leaves your skin silky smooth! This long-lasting formula moisturizes skin for HOURS! It repairs dry, cracked feet, moisturizes skin, detoxifies the body all in ONE amazing scrub
♥ Best selling fragrance!
♥ Sugar grains gently exfoliate
♥ Moisturizing formula
♥ Leaves skin soft and smooth
♥ Nice, clean, tropical scent
♥ Unlike salt scrubs that dry out skin, sugar adds moisture
♥ Smells Amazing with the light citrus and coconut aroma
♥ Gently removes old dry skin
♥ Improves circulation
♥ Soft, glowing, moist, healthy bright skin
Click here to keep reading
Tips and Tricks for JBHomemade's All-Natural Sugar Scrubs
♦ Try Using before a spray tan for optimal tanning results
♦ Use 48 hours after sugaring to decrease the chance for ingrown hairs
♦ Helps control Keratosis Pilaris ("chicken skin")
♦ Use on your feet to minimize calluses
♦ Removes dead skin cells to allow for optimal absorption of moisturizers
♦ Helps remove glue, paint, and unpleasant cooking odors from your hands
Use Instructions:
Clean your face using a warm, damp washcloth before using the sugar scrub. While the skin is still wet, massage approximately two teaspoons worth of scrub into your hands and massage into your skin using a circular motion. You may add more sugar scrub as you move onto other areas of your body, but make sure to concentrate on rough patches like elbows, knees, and feet. Do not apply to areas of broken or infected skin. When done, rinse off using warm water.
Care Instructions:
You may store this Natural Coconut Lemon Sugar Scrub Body Polish in its original sealed container in your refrigerator for up to six months. Avoid introducing water into the jar, as this will shorten the life of your scrub. For best results, keep the jar in a cool, dry place and scoop only the scrub you are about to use in the shower or sink.
Ingredients:
♥ Organic Coconut Oil and Flakes (Cocos nucifera): Clears Skin, Softens skin, Fights Infection
♥ Lemon Juice and Zest (Citrus Limon): Antiseptic, Exfoliates, and Blackhead Remover
♥ Organic Cane Sugar (Saccharum officinarum L): Medium-Grain
Pin this post!