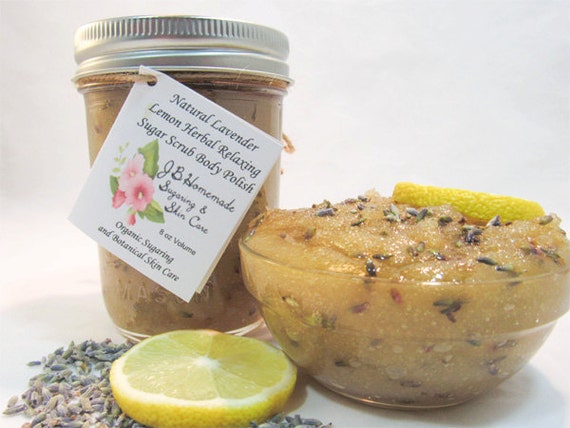 $13.99 USD
The perfect scrub for shower or bath, this gently exfoliating Lavender Lemon Sugar Scrub smooths skin while an aromatherapy blend of essential oils, dried lavender herb & all organic, natural ingredients benefits body, mind & mood. Breathe deeply for best results.
This luscious lavender sugar scrub contains pure lavender essential paired with organic cane sugar and moisturizing extra virgin olive oil, fresh Lemon juice, and Macadamia Nut Essential Oil. Perfect for pampering yourself after a sugaring wax or whenever you feel the urge to feel soft, silky, and wonderful from head to toe! This relaxing scrub will keep your skin healthy by acting as an antibacterial, exfoliant and moisturizing all in one!
I use both Dried and Essential oil Lavender. The Lemon juice gives a soft citrus smell paired with the aroma of the lavender is just heavenly. The sugar and oils are great for hydrating and exfoliating the skin, While the lavender adds a calming scent and makes this scrub extra pretty. The lavender adds a lovely floral fragrance and makes this scrub super luxurious.
♥ Best selling fragrance!
♥ Sugar grains gently exfoliate
♥ Moisturizing formula
♥ Leaves skin soft and smooth
♥ Nice, relaxing, lavender scent
♥ Unlike salt scrubs that dry out skin, sugar adds moisture
♥ Smells Amazing with the light lavender and citrus aroma
♥ Gently removes old dry skin
♥ Improves circulation
♥ Soft, glowing, moist, healthy bright skin
How long has it been since your hands, body, mind and soul were pampered?
Click here to keep reading
Use Instructions:
Clean your face using a warm, damp washcloth before using the sugar scrub. While the skin is still wet, massage approximately two teaspoons worth of scrub into your hands and massage into your skin using a circular motion. You may add more sugar scrub as you move onto other areas of your body, but make sure to concentrate on rough patches like elbows, knees, and feet. Do not apply to areas of broken or infected skin. When done, rinse off using warm water.
Care Instructions:
You may store this Natural Lavender Lemon Herbal Relaxing Sugar Scrub Body Polish in its original sealed container in your refrigerator for up to six months. Avoid introducing water into the jar, as this will shorten the life of your scrub. For best results, keep the jar in a cool, dry place and scoop only the scrub you are about to use in the shower or sink.

Ingredients:
Organic Cane Sugar (Saccharum officinarum L)
Extra Virgin Olive Oil (Olea europaea L.)
Lavender Oil (Lavandula Angustifolia)
Macadamia Nut Oil (Macadamia integrifolia)
Dried Lavender (Lavandula)
Lemon Juice and Zest (Citrus Limon)

Extra Virgin Olive Oil is rich in Vitamin E & A, helps prolong youth, hydrates the skin, maintains its elasticity & softness. EVOO also helps skin cells to regenerate.
Lavender oil is a wonderful remedy for eczema, has antiseptic and anti-inflammatory properties and helps in reducing the swelling and redness.
Macadamia Nut Oil topically firms your skin while maintaining a youthful glow.
Dried Lavender is known to be a soothing treatment of problematic skin, wrinkles, an exceptional toner and calms itchy skin, "an anti-aging wonder." Lavender been shown to have many properties including anti-allergenic, anti-inflammatory, antiseptic, antibacterial, antispasmodic, balancing, energizing, soothing, healing, toning and stimulating and being effective in treating oily skin as well as acne, dermatitis, eczema, and psoriasis.
Lemon Juice and Zest have proven to be antiseptic, great exfoliants and even helps remove blackheads.
Pin this post!