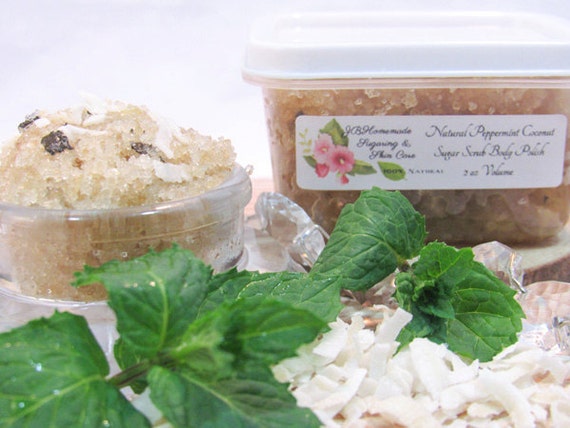 $3.99 USD
If you are looking for a bright and peppy organic sugar scrub to wake you up in the morning and cheer you up after a long day, try this organic peppermint coconut sugar scrub! Combining the moisturizing properties of organic coconut oil and extra virgin olive oil, with the skin stimulating effects of peppermint oil this sweet little jar packs quite a punch. Peppermint extract, which is in this scrub, is good for your skin because it keeps feeling fresh, moisturized, and free of any pimples, or blemishes. Peppermint is said to be a huge stress reliever as well.
As you massage the peppermint sugar scrub into your skin, you will be rewarded with a delicious minty tingle that feels like your very own personal spa. So if you take a shower and scrub yourself with this, you will begin to feel the tension pour out of you, and you will find yourself feeling very relaxed. Peppermint is also excellent for headaches and sinuses. With the blend of the comforting peppermint extract from the scrub and the heat from your shower, you can say goodbye to your headache or stuffed up sinuses.
This long-lasting formula moisturizes skin for HOURS! It repairs dry, cracked feet, moisturizes skin, detoxifies the body and provides relief from inflammation and soreness all in ONE amazing scrub! Not only do the winter months bring sinus pressure and nasal congestion but your skin may also become dry from indoor heat and cold weather. Treat your headache, your sinuses and your skin with an all-natural Peppermint Coconut Sugar Scrub that will help make your skin soft, supple and help you breathe easier.
♥ Sugar grains gently exfoliate
♥ Moisturizing formula
♥ Leaves skin soft and smooth
♥ Nice, clean, minty, scent
♥ Unlike salt scrubs that dry out skin, sugar adds moisture
♥ Smells Amazing with the light menthol aroma
♥ Gently removes old dry skin
♥ Improves circulation
♥ Soft, glowing, moist, healthy bright skin
Click here to keep reading
Tips and Tricks for JBHomemade's All-Natural Sugar Scrubs
♦ Try Using before a spray tan for optimal tanning results
♦ Use 48 hours after sugaring to decrease the chance for ingrown hairs
♦ Helps control Keratosis Pilaris ("chicken skin")
♦ Use on your feet to minimize calluses
♦ Removes dead skin cells to allow for optimal absorption of moisturizers
♦ Helps remove glue, paint, and unpleasant cooking odors from your hands
Use Instructions:
Clean your face using a warm, damp washcloth before using the sugar scrub. While the skin is still wet, massage approximately two teaspoons worth of scrub into your hands and massage into your skin using a circular motion. You may add more sugar scrub as you move onto other areas of your body, but make sure to concentrate on rough patches like elbows, knees, and feet. Do not apply to areas of broken or infected skin. When done, rinse off using warm water.
Care Instructions:
You may store this Natural Peppermint Coconut Sugar Scrub Body Polish in its original sealed container in your refrigerator for up to six months. Avoid introducing water into the jar, as this will shorten the life of your scrub. For best results, keep the jar in a cool, dry place and scoop only the scrub you are about to use in the shower or sink.
Ingredients:
♥ Organic Cane Sugar (Saccharum officinarum L): Medium Grain
♥ Organic Raw Sugar (Saccharum officinarum L unrefined): Hard Grain
♥ Organic Extra Virgin Olive Oil (Olea europaea L.)
♥ Coconut Oil (Cocos nucifera)
♥ Peppermint Oil (Mentha piperita)
♥ Peppermint Leaves (Mentha)
Coconut Oil clears Skin, Softens skin, Fights Infection
Organic Extra Virgin Olive Oil is rich in antioxidants; it prevents skin from aging, and the appearance of wrinkles & fine lines; nourishes rejuvenates & protects the skin. Rich in vitamin E & A, helps prolong youth, hydrates the skin, maintains its elasticity & softness. Also, helps skin cells to regenerate.
Peppermint Oil and Peppermint Leaves both contain antibacterial properties.
Pin this post!