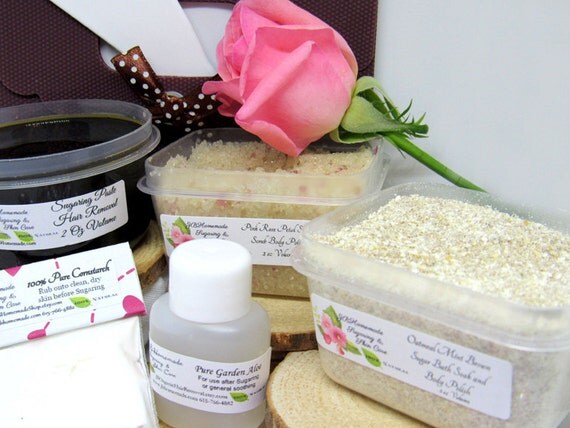 $16.88 USD
The benefits of Pink roses, Oatmeal and Sugaring Paste combine for a complete sugaring hair removal kit. The easy way to begin Body Sugaring at home, JBHomemade Sugaring Deluxe Starter Kits provide the perfect solution. Sugaring Paste Deluxe Starter Kits provide everything you will need for successful sugaring hair removal at home! You will receive a non-oil based oatmeal mint brown sugar scrub for before sugaring exfoliation, sugaring paste hair removal, Natural Pink Rose Petal Scrub for aftercare, pure aloe, cornstarch, applicator and detailed instructions and tips! Learn how to Sugar with this complete starter kit today!
How does exfoliation play a role in longer lasting smooth results after sugaring?
You WANT to exfoliate before you perform your sugaring. Exfoliation ensures that your ball of sugar lasts longer in its firm state, performing at its best. Exfoliating stops dead skin cells from clogging up your sugar.
Organic Fresh Pink Rose Sugar Scrub makes a great exfoliator and moisturizes your skin to a petal soft, silky feel. This scrub provides the perfect nourishment for your dry and problematic skin! While naturally nourishing your skin with botanical ingredients, the sugar gently exfoliates dead skin cells that clog pores and cause itchy ingrown hairs!
The grainy essence of Oatmeal Mint Brown Sugar Scrub makes it a good scrub already, plus oats also absorb and remove surface dirt and impurities. Oats deep cleanse your pores, they gently exfoliate, and finally, hydrate and soften your skin.
The included all natural Sugaring Paste is quite thick, feeling almost like taffy, firm but pliable. Beginners to Sugaring and those with thicker/coarse hair should start with sugaring paste. Sugaring paste is a less painful alternative to waxing. No burns, no chemicals, no redness or irritation.
Sugaring is a hair removal, or epilation, method that has been used for centuries - all the way back to ancient Egypt and that beauty guru Cleopatra, Persia, and Arabia!
To learn more about the
Benefits of Sugaring
, head over here.
Click here to keep reading
The most common question asked is "Is it painful like waxing in a salon?" The answer is an emphatic NO! Honestly, the pain level will depend on your personal threshold of pain, though in general, the pain level is much less than salon waxing, and just feels like removing a bandage.
This paste can be used for all areas of the body, such as the legs, arms, underarms, bikini, upper lip, chin....from your eyebrows to your toes! Sugaring paste is ideal for all skin types including those with eczema, psoriasis, even varicose veins.
Fact: While being spread in the opposite direction of growth, the sugar seeps into your follicles/pores. This action essentially "lubricates" the hair, allowing for gentle extraction.
~Quote Alexandria Professional
This Natural Pink Rose Petal Scrub Sugaring Paste Deluxe Starter Kit includes:
• One 2.3 oz. BPA free plastic container of Sugaring Paste
Ingredients: Organic raw sugar, fresh squeezed lemon juice, purified water.
• One 2.3 oz. of Natural Pink Rose Petal Scrub
(Great anytime or for post sugar exfoliation after 48 hours, every 2-3 days)
• One 2.3 oz. of Oatmeal Mint Brown Sugar Scrub
(A dry, non-oily scrub that you can add either water or milk to depending on your skin type, great anytime or before sugaring exfoliation)
• 10 ml sample of my Pure Aloe Vera
(Soothing, moisturizing post sugaring care)
• A pouch of Pure Corn Starch
• Instruction cards
• Sugaring applicator
**NOTE: This size sugaring paste should be enough to make two one-ounce size sugaring balls about the scale of a golf ball. This amount should be sufficient to sugar both your legs from ankle to above the knee.
General Instructions:
Apply cornstarch to clean, dry skin after a gentle exfoliation with the Oatmeal Mint Brown Sugar Scrub*.
• Using the applicator, spread a layer of the sugaring paste in the OPPOSITE direction of hair growth in the desired area three times, using slight pressure.
• On the third spreading motion, remove the sugaring paste by using a Flicking motion in the SAME direction of the hair growth.
• Follow up with the Natural Pink Rose Petal Scrub for healthy, nourishing aftercare after 48 hours. Exfoliating will prolong the smooth results and ensure minimal chance of ingrown hairs caused by dead skin cells blocking the pores.
See tutorial video for a demonstration of flicking motion.
*It is highly recommended that you gently exfoliate your skin gently before sugaring with a non-oil based exfoliant.
Pin this post!