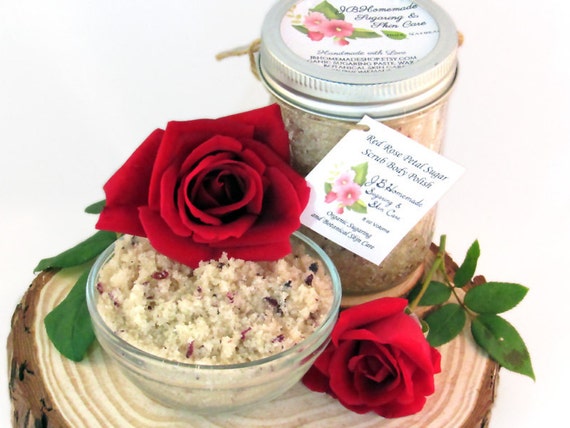 $14.99 USD
Red roses have always been a representative of romance and love. Did you know that roses are also highly prized for their skin care properties? Roses carry tons of Vitamin C, known to help heal sun-damaged spots. Rose is a natural astringent, which will help tone your skin, and is a natural anti-inflammatory agent. If you suffer from dry skin or rough patches, roses may just be your answer! This exfoliating body scrub instantly makes your skin soft, smooth, healthy, glowing and vibrant. This scrub provides a magnificent exfoliation without aggravating the skin, polishing away dead skin cells to leave the body with an amazingly soft feel. Pure cane sugar blended with the finest oils results in an entirely natural and stimulating exfoliant.

How long has it been since your hands, body, mind and soul were pampered? This scrub turns every shower or bath into a delightful spa experience, and it leaves your skin silky smooth! This scrub features organic sugar with precious and valuable Rose which is regenerative, healing, firming and wrinkle-fighting! This fragrant floral rose scrub will gently remove impurities while re-hydrating skin and fighting signs of aging and also blemishes! It's an absolute dream!

♥ Best selling fragrance!
♥ Sugar grains gently exfoliate
♥ Moisturizing formula
♥ Leaves skin soft and smooth
♥ Nice, floral scent
♥ Unlike salt scrubs that dry out skin, sugar adds moisture
♥ Smells Amazing with the light scent of a rose garden
♥ Gently removes old dry skin
♥ Improves circulation
♥ Soft, glowing, moist, healthy bright skin

Click here to keep reading

Tips and Tricks for JBHomemade's All-Natural Sugar Scrubs
♦ Try Using before a spray tan for optimal tanning results
♦ Use 48 hours after sugaring to decrease the chance for ingrown hairs
♦ Helps control Keratosis Pilaris ("chicken skin")
♦ Use on your feet to minimize calluses
♦ Removes dead skin cells to allow for optimal absorption of moisturizers
♦ Helps remove glue, paint, and unpleasant cooking odors from your hands
Use Instructions:
Clean your face using a warm, damp washcloth before using the sugar scrub. While the skin is still wet, massage approximately two teaspoons worth of scrub into your hands and massage into your skin using a circular motion. You may add more sugar scrub as you move onto other areas of your body, but make sure to concentrate on rough patches like elbows, knees, and feet. Do not apply to areas of broken or infected skin. When done, rinse off using warm water.
Care Instructions:
You may store this rose sugar scrub in its original sealed container in your refrigerator for up to six months. Avoid introducing water into the jar, as this will shorten the life of your scrub. For best results, keep the jar in a cool, dry place and scoop only the scrub you are about to use in the shower or sink.
Ingredients:
♥ Organic Cane Sugar (Saccharum officinarum L)
♥ Organic Grapeseed Oil (Vitis vinifera seed oil)
♥ Red Rose Petals (R. gallica)
♥ Rose Pure Essential Oil (Rosa Damascena)
Grapeseed Oil is known to aid in the restoration of Collagen, Skin Balancing, Prevention of Acne and Aging, Wrinkle and Scar Reduction.
Organic Cane Sugar is a medium grain sugar, which is known to increase cell regeneration. Sugar aids in reducing skin pigmentation by forcing melanin out of skin cells and is a well-known antioxidant.
Pin this post!