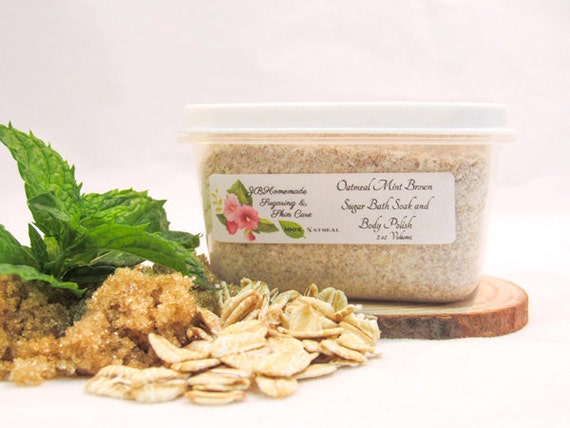 $14.99 USD
Oatmeal is known to have powerful calming properties, and this dry body scrub puts this ingredient front and center! Organic Colloidal Oatmeal, fresh mint leaves, and brown sugar immediately penetrate your skin (after your pores have been warmed and opened in your shower or bath), nourishing, hydrating, soothing and smoothing it out.
Oat baths were used by both the Romans and the Greeks for soothing irritated skin. This dry mint oatmeal scrub is an excellent way to get all the benefits of oatmeal and be able to tailor to your skin needs that day. As it is a dry body scrub, you add the liquid of your choice just before use. For normal skin use, I recommend mixing the scrub with water, but if you are struggling with dry winter skin, mix it with cream or milk for a truly indulgent pampering session. And with the Organic Oatmeal Mint Brown Sugar Scrub you have a twofer! Use as a gentle exfoliator or a mask, or both!
After you scrub, leave on for 10-15 minutes, allowing the pasty scrub to dry on your skin. Rinse with warm water.
Once you have tried the gentle power of an oatmeal scrub, your skin never wants anything else again.
The ingredients used in this Mint Oatmeal Brown Sugar Scrub are time proven and truly natural; they are taken from fresh products which have specific scrubbing and exfoliating qualities. Besides the fact that the grainy substance makes oatmeal a good scrub already, oats also absorb and remove surface dirt and impurities, they deep cleanse your pores, they scrub, gently exfoliate, and finally, hydrate and soften your skin.
Click here to keep reading
Mint Leaves have been shown to have anti-inflammatory properties, moisturizing and calming to dry, itchy skin. For many people, a simple oatmeal scrub or mask has also been a natural and effective way to treat many skin conditions, like oily or dry skin, acne, zits, blemishes, sunburn, razor burns, and even chicken pox. It has even been clinically proven to heal dry, itchy skin; and its gentle nature makes oatmeal also perfect for sensitive skin. 
Use Instructions:
Clean your face using a warm, damp washcloth before using the sugar scrub. Take approximately two teaspoons of scrub into your hand and add ½ teaspoon of the liquid of your choice forming somewhat of a pasty texture.

While the skin is still wet from your washcloth, massage the paste into your skin using a circular motion. You may add more sugar scrub as you move onto other areas of your body, but make sure to concentrate on rough patches like elbows, knees, and feet. Do not apply to areas of broken or infected skin. When done, rinse off using warm water.

Care Instructions:
You may store this oatmeal mint sugar scrub in its original sealed container in your refrigerator for up to six months. Do not get water into the original container.

Ingredients:
♥ Ground by hand Rolled Whole Oatmeal (Avena sativa): Natural cleansers called saponins that can remove dirt and oil from the pores, improves skin tone and texture, Relieves itchy/psoriasis, eczema, treats acne, removes dryness.
♥ Mint Leaves (Mentha): Has been shown to have anti-inflammatory properties, moisturizes and calms dry, itchy skin (men tend to like this scent)
♥ Brown Sugar (Saccharum officinarum with molasses): As a fine grain sugar, brown sugar contains vitamin B, specifically, Nicotinamide, a derivative of Vitamin B3 (Niacin) which has been shown to improve the ability of the epidermis to retain moisture. The capacity to hold in moisture leads to softer, smoother skin with less dryness and flakiness, and a reduction of fine lines.
Pin this post!