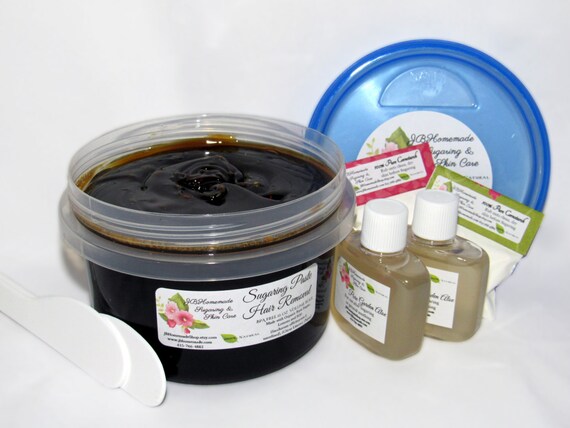 $33.99 USD
Sugaring paste is an organic, natural and gentle alternative to waxing and shaving. The sugaring hair removal method has been used for centuries dating back to ancient Egypt and that beauty guru Cleopatra, Persia, and Arabia. Beginners to Sugaring and those with thicker/coarse hair should start with sugaring paste.
Sugaring can be used by anyone who wants a natural alternative for hair removal. All skin types, including those with eczema, psoriasis, even varicose veins, can use sugaring. Body sugaring works to remove hair from the body including the legs, arms, underarms, bikini, upper lip, chin, eyebrows, and toes.
♦ Dark amber in color
♦ Thick almost like taffy - It is firm but pliable
♦ No hair removal strips, only your fingers or applicator alone are needed!
♦ Easily cleans up with warm water
Sugaring also may lead to permanent hair removal if performed in the Anagen stage of growth. With sugaring, your hair grows back softer, slower, and finer. Over time, you will have less and less hair.
Click to read more
How do you do it? Well, it could not be easier!
Apply cornstarch to clean, dry skin after a gentle exfoliation*.
• Using the applicator, spread a layer of the sugaring paste in the OPPOSITE direction of hair growth in the desired area three times, using slight pressure.
• On the third spread motion, remove the sugaring paste by using a Flicking motion in the SAME direction of the hair growth.
See tutorial video for a demonstration of flicking motion.
*Detailed instructions are provided.
*It is highly recommended that you gently exfoliate your skin gently before sugaring with a non-oil based exfoliant.

If you have not sugared before, it does take a little practice. I strongly recommend watching the tutorial videos provided on my YouTube Channel or website. However, once you get the hang of it, it truly is amazing.
Latest Sugaring Paste Review:
⭐⭐⭐⭐⭐
Veeery happy with the sugaring paste!! 😄 I have tried it once (my first time sugaring ever, so I did struggled a bit) but, it worked just as good as I hoped for! No redness or soreness after and sooooo smooth, omg! I'm pretty sure that with some more "practice" this won't be any problem at all. I will never spend "tons" of money again to do this at a salon, and would definitely order more sugaring paste from JBHomemadeShop! Worth the money ✌
The most common question asked is "Is it painful like waxing in a salon?" The answer is an emphatic NO! Honestly, the pain level will depend on your personal threshold of pain, though in general, the pain level is much less than salon waxing, and just feels like removing a bandage.
This paste can be used for all areas of the body, such as the legs, arms, underarms, bikini, upper lip, chin....from your eyebrows to your toes! Sugaring paste is ideal for all skin types including those with eczema, psoriasis, even varicose veins.
Fact: While being spread in the opposite direction of growth, the sugar seeps into your follicles/pores. This action essentially "lubricates" the hair, allowing for gentle extraction.
~Quote Alexandria Professional
Each order of this listing includes:
• ONE - 16 ounce BPA FREE plastic tub with screw-tight lid of Sugaring Paste
Ingredients:
Organic Raw Sugar, Fresh squeezed Lemon Juice and Purified Mountain Spring Water
• 2 Sugaring applicators
• 2 small pouches of Pure Cornstarch
• Two 30 ml sample sizes of my Pure Aloe Vera
• Detailed instruction cards
• A brief history of sugaring
• Links to my video tutorials on YOUTUBE.
Pin this post!