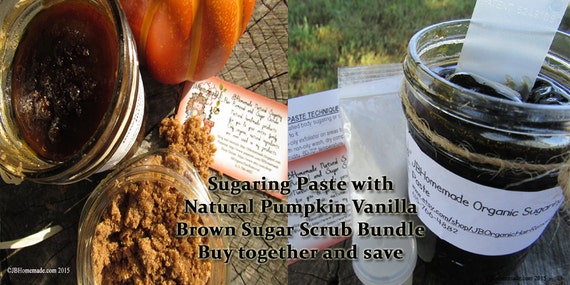 $30.69 USD
Exfoliation is the action of gently removing dead or old skin cells from the outermost surface of your skin. The healthiest way to do this is with natural skin products with small granules which rub away the old skin. It's important to keep your skin exfoliated before and after you begin your at home sugaring treatment, ensuring that only your unwanted hairs get removed. By maintaining an exfoliation routine in between sessions, your sugaring treatments will produce the best results because the dead skin cells will not block the pores.
All natural Sugar scrubs are perfect for regular exfoliation in your skincare regimen as well. Whether you are sugaring at home for the first time, maintaining aftercare, or regularly exfoliation in your skincare regimen, your skin will feel amazingly soft and healthy.
The combination of fall spices, warm scents of pumpkin, vanilla, and brown sugar creates an amazing aroma that reminds you of pumpkin pie and sugar cookies which linger on your skin long after you have used the scrub. Yes, Fall is all about pumpkins for most of us, but it's also the perfect time to start showing your skin a little love. The enzymes and alpha hydroxy acids (AHAs, which increase cell turnover to brighten and smooth the skin), in pumpkin pulp, combine with safflower oil to dissolve dull, dead cells, revealing your healthy radiant skin underneath. Also, the antioxidant Vitamin A and Vitamin C in pumpkin pulp help soften and soothe the skin and boost collagen production to prevent the signs of aging.
The included all natural Sugaring Paste is quite thick, feeling almost like taffy, firm but pliable. Beginners to Sugaring and those with thicker/coarse hair should start with sugaring paste. Sugaring paste is a less painful alternative to waxing. No burns, no chemicals, no redness or irritation.
Sugaring is a hair removal, or epilation, method that has been used for centuries - all the way back to ancient Egypt and that beauty guru Cleopatra, Persia, and Arabia!
To learn more about the
Benefits of Sugaring
, head over here.
Click here to keep reading
The most common question asked is "Is it painful like waxing in a salon?" The answer is an emphatic NO! Honestly, the pain level will depend on your personal threshold of pain, though in general, the pain level is much less than salon waxing, and just feels like removing a bandage.
This paste can be used for all areas of the body, such as the legs, arms, underarms, bikini, upper lip, chin....from your eyebrows to your toes! Sugaring paste is ideal for all skin types including those with eczema, psoriasis, even varicose veins.
Fact: While being spread in the opposite direction of growth, the sugar seeps into your follicles/pores. This action essentially "lubricates" the hair, allowing for gentle extraction.
~Quote Alexandria Professional
All natural, organic ingredients, so it is perfect for those with sensitive skin.
Sugaring Paste Ingredients:
♥ Organic raw sugar (Saccharum officinarum L), freshly squeezed lemon juice (Citrus × limon), purified water (oxidane)
♥ Pumpkin Vanilla Sugar Scrub Ingredients:
Organic Pumpkin Pure (Cucurbita pepo), Organic Brown Sugar (Saccharum officinarum with molasses), Organic Cane Sugar (Saccharum officinarum L), Safflower Oil (Carthamus tinctorius), Pure Vanilla (Vanilla planifolia)
Each order of this listing includes:
• An 8-ounce glass mason jar of measured sugaring paste, an applicator, and a small pouch of corn starch, a 30 ml sample size of my pure aloe vera, detailed instructions, a brief history in sugaring, and links to my video tutorials on YouTube.
• An 8-ounce glass mason jar filled with precisely measured 8 oz of Natural Pumpkin Vanilla Brown Sugar Scrub.
General Sugaring Paste Instructions:
Apply cornstarch to clean, dry skin after a gentle exfoliation with a non-oily scrub*.
• Using the applicator, spread a layer of the sugaring paste in the OPPOSITE direction of hair growth in the desired area three times, using slight pressure.
• On the third spreading motion, remove the sugaring paste by using a Flicking motion in the SAME direction of the hair growth.
• Follow up with the Natural Pumpkin Vanilla Sugar Scrub for healthy, nourishing aftercare after 48 hours. Exfoliating will prolong the smooth results and ensure minimal chance of ingrown hairs caused by dead skin cells blocking the pores.
*It is highly recommended that you gently exfoliate your skin gently before sugaring with a non-oil based exfoliant.
**Detailed instructions are provided.
General Sugar Scrub Instructions:
Gently rub the scrub onto your skin. Massage lightly with your fingertips, rinse with warm water.
Pin this post!