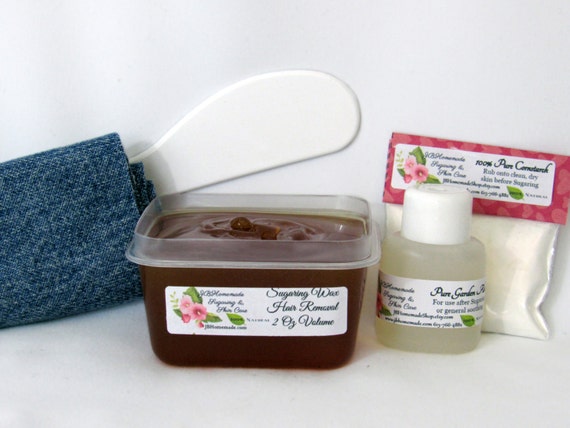 $5.99 USD
Sugaring wax is and organic, natural and gentle alternative to waxing and shaving. The sugaring hair removal method has been used for centuries dating back to ancient Egypt and that beauty guru Cleopatra, Persia, and Arabia. For individuals whose hairs naturally grow thin and those who have been faithful waxers and would like a natural alternative.
Sugaring can be used by anyone who wants a natural alternative for hair removal. All skin types, including those with eczema, psoriasis, even varicose veins, can use sugaring. Body sugaring works to remove hair from the body including the legs, arms, underarms, bikini, upper lip, chin, eyebrows, and toes.
♦ Light amber in color
♦ Consistency of thick honey or syrup
♦ Easily cleans up with warm water
♦ Reusable denim removal strips
How do you do it? Well, it could not be easier!
• Warm your sugaring wax ever so slightly, preferably, in a bowl of hot water until the wax has the consistency of syrup or honey*

Remember it should be somewhat warm, but NEVER hot!

• Always start with clean, exfoliated and dry skin**
• Apply a thin layer of cornstarch provided (or baby powder).
• Using the applicator provided spread a thin layer of the sugaring wax in the OPPOSITE direction of hair growth in the desired area.
• Apply a denim strip.
•While holding the skin taut, rub the denim piece back and forth creating heat friction. This action ensures the sugaring wax can soak into your pores, coating hair follicles.
• QUICKLY remove the strip pulling in the SAME direction of the hair growth.
*Note: You can use a microwave in 10-second intervals not to exceed 30 seconds.
**It is highly recommended that you exfoliate your skin gently before sugaring.
See? Similar to waxing at a salon, but I would say, well for lack of better words, OPPOSITE! AND naturally gentle.
To learn more about the Benefits of Sugaring, head over here.
Click here to keep reading
The most common question asked is "Is it painful like waxing in a salon?" The answer is an emphatic NO! Honestly, the pain level will depend on your personal threshold of pain, though in general, the pain level is much less than salon waxing, and just feels like removing a bandage.
This paste can be used for all areas of the body, such as the legs, arms, underarms, bikini, upper lip, chin....from your eyebrows to your toes! Sugaring paste is ideal for all skin types including those with eczema, psoriasis, even varicose veins.
Fact: While being spread in the opposite direction of growth, the sugar seeps into your follicles/pores. This action essentially "lubricates" the hair, allowing for gentle extraction.
~Quote Alexandria Professional
Each order of this listing includes:
• ONE 2.3 ounces BPA free plastic tub of Sugaring Wax
Ingredients:
Organic Cane Sugar, Fresh squeezed Lemon Juice and Purified Mountain Spring Water
• 1 Sugaring applicator
• 1 small pouch of Pure Cornstarch
• One 30 ml sample size of my Pure Aloe Vera
• Two reusable denim removal strips*
More Info: http://etsy.me/23EfwlU
• Detailed instruction cards
• A brief history of sugaring
• Links to my video tutorials on YOUTUBE
*Each denim strip can be reused up to three times per application, and can then be washed for long-term use in a bowl of warm soapy water and line dried. Recycle/reuse!
Pin this post!