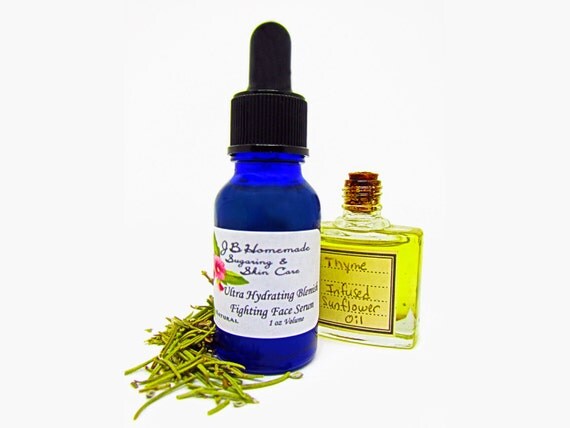 $12.99 USD
The cleansing and antiseptic properties of Thyme combine with protective, antioxidant properties of Sunflower Oil. This powerful combination is the base formula of JBHomemade's stimulating "Thyme Infused Sunflower Oil," and is what makes this remarkable product a must have, for your oily and blemish-prone skin.
This specially formulated, all natural, plant-derived serum gives your skin a smoother looking appearance, fights acne, blemishes and scars with Sunflower oil infused with Thyme plus pure, garden picked Aloe Vera blended with Lemon essential oil and Vitamin E.
It sounds a bit ironic, but oil eliminates oil. For that reason, serums and oils can be great for oily skin types. If you struggle with acne, you may need this product in your natural skin care arsenal. If you have oily, acne-prone skin, then you know that large pores and melting foundation surely can be dreadful. Applying makeup and getting spruced up for a night out becomes a bit frustrating. Luckily, this specially formulated serum may indeed help.
Ultra-Hydrating Blemish Fighting Face Serum is designed for oily, combination, and blemish-prone skin types.
Features:
♥ Helps Clear Blemishes
♥ Reduces Acne Scars
♥ Evens Skin Tone
♥ Renews the Skin
♥ Fights Acne
♥ Deep Cleansing
♥ Fights Free Radicals
♥ Clears Clogged Pores
♥ Boosts Collagen Production
♥ Promotes a clear complexion
This acne product does not dry the skin and leaves your complexion looking smooth and fresh. This mighty Serum uses the power of nature to diminish the look of blemish scars, control breakouts and stimulate collagen production.
Click to read more
Serums and oils can fight your breakouts, boost radiance, moisturize, and improve discoloration. They provide your skin with light moisture while the vitamins and antioxidants fight damage, like UV rays and acne-causing bacteria. That is pretty marvelous, right? If that was not enough, serums soak in quickly and prepare your skin so that active ingredients from other products, like creams, can sink in deeper. If you use a product with a harsh ingredient, serums can also calm the adverse effects. Honestly, what's not to love?


About the ingredients:
♦ Thyme (Thymus Vulgare): often used for deep cleansing, thyme is more effective for treating acne caused by acne bacterium than conventional creams containing benzoyl peroxide—without the bothersome side effects. Thyme has an antiseptic and antifungal property that cleanses, heals and soothes inflamed skin.
♦ Sunflower Oil (Helianthus annuus): Creates a protective layer that prevents bacteria from making direct contact with your skin; thus, it prevents acne. Sunflower oil is an antioxidant, has anti-inflammatory properties and omega-6 fatty acids as well.
♦ Aloe (Liliaceae Aloe Vera): Treats blemishes, acne, and other skin problems. The plant softens dead skin cells leaving the skin feeling soft and smooth upon regular use. It even delays noticeable signs of aging like fine lines and appearance of wrinkles and relieves itchy skin. Aloe clears while it hydrates and renews the skin for a healthy, clear complexion.
♦ Lemon Essential Oil (Citrus limon, C. Limonum): Contains powerful ingredients like antioxidants, anti-inflammatory, antimicrobial, anti-fungal properties, vitamin C, and citric acid, which fight off acne causing germs and boost collagen production, thereby reducing scarring.
♦ Vitamin E (Tocopherols, Tocotrienols): Reduces breakouts & clears clogged pores with naturally derived ingredients. Evens skin tone and texture with organic thyme, sunflower oil, lemon essential oil, aloe and Vitamin E. Fights free radicals and helps renew the skin with antioxidant Vitamin E.
STEP 1: Before each use, gently roll the bottle between your palms.
STEP 2: Apply twice daily (morning and night) to clean skin.
STEP 3 - Apply 2-3 drops of serum to your face and neck. Performs and absorbs the best if your skin is still moist. Try spritzing your face with my rose water before applying.
STEP 4 - Smooth over the entire face and neck with your fingers, targeting your problem areas.
STEP 5 - Massage the serum gently in by using a circular motion with your fingers.
STEP 5 - Allow the serum to dry before using under makeup or cosmetics. Avoid contact with eyes.
Pin this post!