If you've explored my Etsy shop recently, you may have noticed that I added a new version of organic sugar scrub. This came from an inspiration to create a sugar scrub that even the most masculine of men would enjoy using. The woodsy, minty, pine scent of the rosemary and eucalyptus is a great combination.

Organic Eucalyptus Rosemary Cane Sugar Scrub
You may be thinking...well I've used rosemary in my cooking but on my skin? How is rosemary good for my skin? And Eucalyptus?

I remember when I was a kid, my mom had these dried Eucalyptus stalks that gave the living room a distinct smell of Eucalyptus. But on my skin? yep.

Here's why.
I choose particular plants because of the benefits to the skin. Each plant is researched for the benefits that can be derived from being added to a carrier oil and sugar.
My Eucalyptus Rosemary Citrus Sugar Scrub is sure to be a hit. Even with the guys. Eucalyptus gives a fresh, minty, pine scent with a touch of honey while the Rosemary has a unique pine-like fragrant flavor that is balanced by a rich pungency, a combination that evokes both the forest and the sea. While the Rosemary is Invigorating, refreshing and stimulating and has an excellent reputation for oily skin/acne. Add the light citrus aroma of the lemon and you've got yourself an uplifting winner!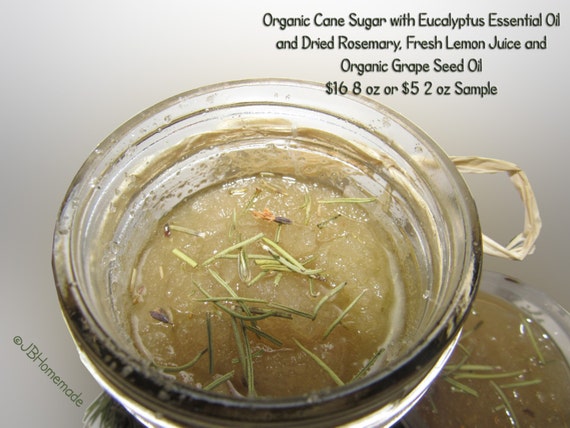 Materials: Organic Cane Sugar, Eucalyptus Essential Oil,
Orange Essential Oil, Fresh Lemon juice, Organic Grape seed Oil,
Dried Rosemary
From my previous post,(and more than likely your own knowledge, of course), you already know that sugar has AH-MAY-ZING benefits. After dead skin has been exfoliated, your body's largest organ works more efficiently to expel toxins and take in nourishment. Skin becomes more uniform in appearance, is softer to touch, and has a radiant glow. Sugar scrubs are also gentler, less dehydrating than salt scrubs and be used by all skin types.

Photo credit: https://www.organicfacts.net
Eucalyptus essential oil is obtained from fresh leaves of the tall, evergreen eucalyptus tree. The tree, scientifically classified as Eucalyptus Globulus is also known as fever tree, blue gum tree or stringy bark tree, depending on where it is located in the world.

1. Anti-inflammatory:
Loosens stiff muscles and relieves aches in the body.
Has been proven to relieve muscle pain.
2. Its pleasant aroma makes it effective as a deodorant
3. Antibacterial
4. Antiseptic and antimicrobial agent.



The Rosemary leaf...typically a culinary herb, but did you know
that the herb has skin benefits as well?


This crisp and clean-smelling oil is rich in healthy properties
like benefiting phytonutrients, antioxidants and essential acids.
It has been used since ancient times as a medicinal and culinary herb by the Greeks and Romans due to its therapeutic properties. The astringent properties of rosemary makes it beneficial for skin care. It contains a wide array of nutrients such as iron, calcium, vitamins and antioxidants. Thus, rosemary is effective for all skin types and is used as an ingredient in skin care cleansers, soaps, face masks, toners and creams.
Primarily beneficial for those with oily, acne-prone skin, rosemary oil and extract both have powerful astringent, anti-fungal, and disinfecting properties. The plant is also rich in biologically active compounds and antioxidants such as calcium, vitamin B6, iron, cineole, and verbenon that effectively tone and tighten loose, sagging skin.
1. Rejuvenates Skin:
Rosemary rehydrates and tones your skin. It removes wrinkles and bags on the skin, thus keeping it taut and healthy. Its cell regeneration properties are effective in treating visible skin conditions and replacing damaged tissue, thus reducing the appearance of scars and spots.
2. Treatment of Acne: Rosemary has powerful disinfectant and antiseptic properties. These help to treat acne and oily skin conditions. Massaging your face with this oil (or scrub infused with the leaves of the medicinal plant) improves skin complexion by lightening dark spots and blemishes on the skin.
3. Anti-ageing Property: Being rich in powerful antioxidants, rosemary slows down the effect of ageing on the skin. It helps in tightening sagging and loose skin, thus making it firmer and more elastic. Moreover, it stimulates biological activity and cell grow
4. Prevents Skin Infection:The medicinal qualities of rosemary make it beneficial for treating chronic skin conditions such as dermatitis, eczema and psoriasis. Its anti-inflammatory properties are useful in reducing swelling and puffiness of the skin as well as healing burns.
Pure Orange Essential Oil:

1. Anti-inflammatory:It provides relief from external inflammation caused by infections.
It is helpful in treating swollen tissue by stimulating blood circulation.
2. Anti-septic: It inhibits microbial growth

3. Skin Treatment: Orange essential oil is shown to promote the
production of collagen as well as increase the blood flow to the skin.
It is helpful at soothing dry, irritated skin as well as acne-prone skin.
It is excellent for rubbing on calluses on the feet.
Fresh Lemon Juice - A Natural Skin Tonic

Photo Credit? Flicker dvarimbalma
Wonderful Lemons with their tart acidic nature and
essential nutrients like Vitamins B, C, and antioxidant properties.

Lemon juice a natural antiseptic, comes in handy
as an excellent beauty aid for rejuvenating and
replenishing skin both from within and without.

1. Skin lightening, alleviating freckles, dark spots and age spots:
The potent antioxidant and vitamin C elements in lemon play a remarkable role in skin lightening, alleviating freckles, dark spots and age spots. Applying lemon juice on the age spots help decrease the dark areas making them lighter. This is due to the presence of citric acid in lemon, along with its ability to neutralize the pH balance, which clears and lightens the skin.
2. Blackhead Remover: With natural antiseptic properties lemon juice helps balance the skin oiliness clearing the dirt and grime eliminating bacteria that damage skin leading to blackhead outbreaks. Freshly squeezed lemon removes blackheads without leaving behind any traces of their presence. This is because of the potent citric acid, which combats the oils causing blackhead eruptions.
3. Natural Exfoliate: Loaded with citric acid, lemon juice acts as an excellent natural exfoliant and is effective especially when combined with sugar, for removing the dead skin cells revealing a glowing brand new skin beneath the surface.
4. Rejuvenating Skin Cells: Rich in salicylic acid, Lemon juice helps eliminate the rough dead cells from the surface, rejuvenating skin and imparting a naturally younger look, preventing wrinkles and fine lines.
The following are the ingredients I use to combine all
of these great benefits with those found in:

Photo Credit: http://www.seedguides.info/



1. Wrinkle and Scar Reduction:


has an ideal viscosity, the oil is extremely rich in
beta-carotene and vitamins D, C, E.
It also happens to have a concentration of essential
fatty acids like palmitic, stearic, and linoleic acid.
These fatty acids have performed well in clinical anti-wrinkle trials.
They have also proven to be effective at minimizing the prominence and size of scars.



2. Prevention of Acne and Aging:


Nutrient-rich grape seed oil has found its
way into myriad cosmetic products,
especially products meant for the face and hair.
Lip balms, face creams, conditioners, moisturizers and
other products that contain grape seed oil are all rich in polyphenols.
These polyphenols are anti-inflammatory antioxidants known to
retard the aging process and prevent acne outbreaks.
3. Skin Balancing:

Grape seed oil is light to the touch and never leaves skin feeling heavy with oil. Instead, it effectively moisturizes the skin, balancing both dry and oily patches. When used as a toner, grape seed oil can penetrate blocked pores and cleanse breakouts.
The end result? Skin so healthy and supple you'll wonder why you hadn't tried it before.
Follow my blog for my ongoing series: Skin Benefits of Herbal and botanical sugar scrubs
Why I use the ingredients I do for my organic Sugar scrubs available on Etsy?
Pin this post!